Joined

Oct 6, 2006
Messages

108,997
Location
Special Offer for MikeysBoard members! 20% OFF Odorcide Cat attack discount extended until 4/30/23. Use the following link to purchase:
https://shop.odorcide.com/?ApplyPromo=mbca20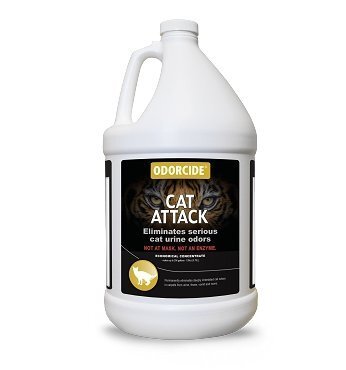 Odorcide Cat Attack
is what you want when you run into those tough cat urine odors. Designed specifically for those hard to eliminate odors from cat urine and cat feces. Dilute 8oz to a gallon of water, saturate the area and let it air dry. Gallon concentrate makes 16 gallons.
For carpet, locate the source of the odor (a blacklight or moisture probe may help identify urine deposits) and treat after vacuuming loose dirt and debris. Mix concentrate with water at a rate of 1:16 (8 oz per gallon) and saturate 50% beyond the actual "spot" area. May add Odorcide® Cat Attack directly to the cleaning extraction system, ensuring it penetrates to the odor source. Increase penetration by using a roller, hand manipulation, or by "walking" the product in.
For hard surfaces, dilute at a rate of 1:16 (8oz per gallon). Pour directly on to the surface, wipe off excess and let air dry. Depending on the severity of the odor, may take multiple applications to fully reach the source of the odor.