Joined

Jul 13, 2011
Messages

17,897

​
Auction includes:
​
Free Freight Shipping to Lower 48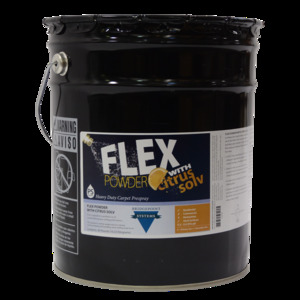 Flex Powder with Citrus Solv is a heavy duty carpet prespray designed for use in the Hydro-Force injection sprayer and other types of pump or electric sprayers.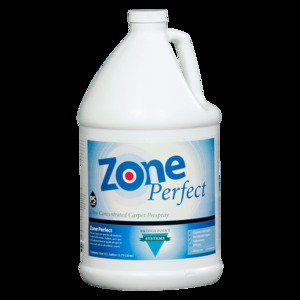 This Zone Perfect formula makes the best traffic lane cleaner in the industry even better, and it is VOC compliant in all 50 states. It has special thickening agents which allow it to contain 30% more active ingredients than other pre-sprays. This special blend of soil-blasting, grease-cutting ingredients delivers an unbeatable cleaning punch that out cleans competitive products - at a safer pH of 9.5.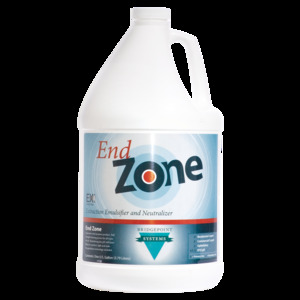 Deep Clean and Acid Rinse in One Step!
End Zone is both an extraction emulsifier and an acid rinse that leaves carpets squeaky clean and prevents resoiling caused by detergent residues. End Zone's powerful surfactants emulsify tough soils including sand and other particulates that pre-sprays just can't remove. End Zone then neutralizes carpet to a slightly acidic pH and its polymer technology helps prevent resoiling.
Save the extra step of an acid rinse with End Zone!
Works in hot or cold water and inhibits corrosion on your standard metal parts.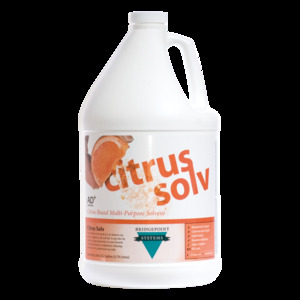 100% Active for Extra Cleaning Power
Degreaser & Fragrance Additive
Our most effective, best-selling additive, Citrus Solv is a must whenever you face the toughest cleaning situations. Citrus Solv is a natural citrus cleaning and fragrance additive. It contains no chlorinated solvents, no alkalies, and is 100% free from caustics and acids. Citrus Solv is water miscible.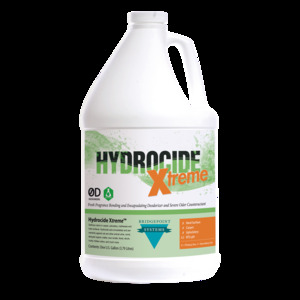 Fresh Fragrance Bonding and Encapsulating Deodorizer and Severe Odor Counteractant
Hydrocide Xtreme™ chemically neutralizes odors by binding, bonding, encapsulating, and absorbing odors associated with humans, animals, food, chemical processes, and smoke. Hydrocide Xtreme contains a fresh "green" fragrance to leave the treated environment with a refreshed, deodorized smell.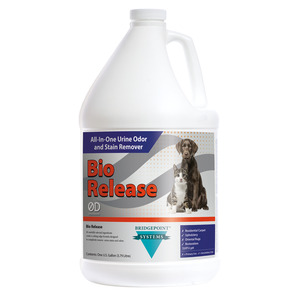 Eliminate organic odors, such as urine, from carpet and other surfaces with Bio Release.
This solution uses more than 20 ingredients to break down contaminants so that they are easily rinsed away. Bio Release will also digest the remaining organic source material, leaving carpets fresh and clean.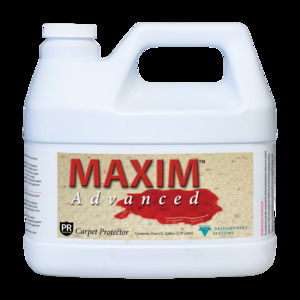 Maxim™ Advanced for Better Protection
Maxim™ Advanced uses the latest technology to deliver the very best levels of protection available. Not only does it protect against oil- and water-based spills, as well as dry soils, it also protects fibers from the toughest dye stains--from the inside out. In addition to providing extended coverage when compared to traditional protectors (1200 sq. ft. per gallon residential, 2400 sq. ft. commercial), it also only uses half the water, so carpets dry twice as fast!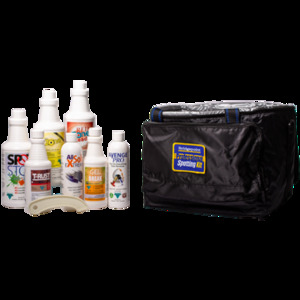 Not Stain Removal Mystified - But Stain Removal Simplified.
Six stain removers and one post treatment solution take care of 99% of stains. This kit contains everything in one professional kit to remove: permanent inks, organic dyes, synthetic dyes, cosmetics, paint, protein spills, food, rust, gum, adhesives and MORE! Spot Stop stops wicking, drives residues under the fiber, prevents re-soiling, and removes odor.
​
Retail Value $652+
Starting Bid $450
Minimum bid increment $2
Auction ends Friday 5/8/20 at 9PM EST / 6PM PST
​