Durastone is a combination of vinyl and stone. Adhered to the floor with pressure sensitive adhesive, much like carpet tiles. Liken it to LVT but I believe that it can also chip. A retailer I knew quit carrying it for that reason. I have never cleaned it but would consider using CRB and spinner with pressure turned down.
I think that might be what I looked at today? thought it was stone at first, no experience so following
As mentioned above, Durastone was the precursor to today's LVT. It could be installed with our with out a urethane type grout. Your procedures above are spot on. Biggest thing they mention in their care instructions were staying away from strong solvents or any citrus cleaners as it will break down the grout if present and the adhesives. While definitely not needed, some people have been known to put down sealers over them.


FOJL
Joined

Oct 7, 2006
Messages

14,488
Location
Credits
Reminds me of Torginol floors.

Everyday is Saturday.
Joined

Sep 20, 2008
Messages

10,574
Location
Credits
Never seen this before any pics or videos?

Everyday is Saturday.
Joined

Sep 20, 2008
Messages

10,574
Location
Credits
Looks like linoleum flooring.

Why the limestone?

Member
Joined

Oct 22, 2012
Messages

9,355
Location
Credits
Been around for a long time!
Looks like linoleum flooring.

Why the limestone?
I think they wanted to be different.. and it makes for a cheap filler to make a bulkier product that could then be grouted. Or butted together.
It also makes it more firm. Ever see the button marks from the bottom of kitchen chairs on linoleum or someone walking across it with spike high heels?
Believe it or not, one of my elementary schools has that in their cafeteria. 21 round tables with 8chairs around each. Yes I said elementary. Architects will sell anything, to anyone.
Great for the exterior! Inside, good luck and God bless!
good gravy, turns out it was this crap...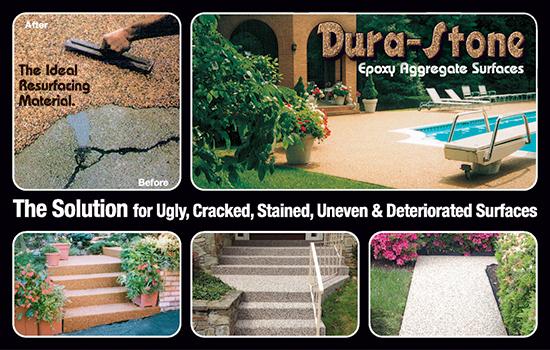 Looks like something Harry homeowner does around his pool deck on a Saturday.... goes to Starbucks, then home depot, back home, done by 3 PM.... and wonders why it doesn't last....
I see those everywhere, but it is used exterior...the one you cleaning is in the house? On what?
That is just another company offering basically an epoxy based product with different types of aggregate added.
Stone coat, dura stone, elite crete, etc they all have very similar systems for commerical and residential applications. I got certified for installation, its was a 3 day hands on course we poured like 100 different types of flooring for all sorts of applications like garages, showers, residential flooring, pool decks, etc. .
you will not hurt the epoxy by cleaning it, once its fully cured (at least with the manufacturer we use) the product is 8x the strength of concrete.
its very much bulletproof, in the class we took hammers to cured surfaces to try and destroy its amazing what it can handle. We also set a counter top on fire, boiling pots straight from a stove burner etc.