Joined

Oct 6, 2006
Messages

89,098
Location
Ivan reached out to me recently and asked to get more information about MB. After seeing MF in Florida happen he was sold.
He knew he wanted to be part of the action here.
Yesterday his banner and raffle went up.
Today the traditional "Hot Seat"..
But don't expect answers until later next week due to the holiday..
Please tell us how you got into the carpet cleaning "solution" manufacturing business (were you ever a cleaner, were you dissatisfied with other chemicals, possible chemistry degree etc..
What was the order of all of your products creation? Is there one that can do it all by changing the dilution or by boosting with a solvent or peroxide? (Many owners want to have a Do It Solution to keep things simple for their techs)
How many employees does Procyon have and do you make anything other than the line of chemicals?
Do you ever regret not using a "greener" more earth friendly sounding name with words like Bio, Planet, Kitten, Soy, Patchouli, Eco or Tofu in the name/description?
Some cleaners say your regular Soap Free Procyon (Original) is not strong enough for their trashed apartment needs. Will your "Extreme" product satisfy them? Are there additional solvents or 02 boosters in it or just additional surfactants (STPP)? Encapsulation claims are made on your site, so polymers are in the recipe as well?
Who was the first manufacturer to bring a "Green" cleaning solution to this industry?
Your ad showing a baby mouthing a bottle of spotter is controversial to say the least, did that photo always have the disclaimer below it?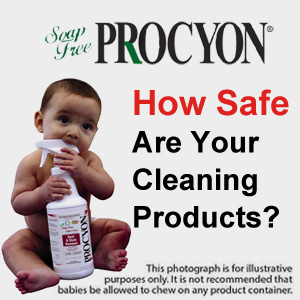 Who do you consider to have the 2nd best line up of green cleaning agents?
How does your Tile and Grout CLeaner differ from your other products?
What are your feelings about fabric protectors? and grout sealers?
How green is your personal house hold? (woven wool carpet, soy paints, cast iron skillets, no cell phones, no microwaves...?)
Have you considered offering 8 ounce flip top spotters to leave with customers? Your15 ounce bottles, while very nice are a bit pricey to leave at every job.
Is there a product missing from your line up that you would like to have but can't figure out how to make it green enough?
and last but not least, please tell us everything the original SFP will clean besides carpeting..
Thanks Ivan!!!!