Press Release
October 16, 2018
HydraMaster expands the Evolution Wand Family with the Addition of the Evolution Stair Wand
The new Evolution Stair Wand has a rotationally molded head, Delrin® Glide, and is a wand designed to clean stairs and other hard to reach places. It comes with a 10" head and has a single jet. The Evolution Stair Wand is lighter and more durable than stainless steel stair wands and tools. Through laboratory testing, the Evolution Stair Wand was designed to smooth airflow and boost water recovery performance. A rotationally molded head and aircraft aluminum tube make the Evolution Stair Wand lighter than most other stair wands or tools and more durable. The Evolution Stair Wand was designed with an ergonomically angled wand tube for fatigue reduction. The laminar like airflow design improves airflow, increases extraction performance, and reduces drying time; plus leaves less residual moisture. The Delrin® glide is mounted to the rotationally molded head for airtight fit and no slippage. A brass check valve/stainless steel Inline filter with brass quick-connect prevents clogging and is easy to clean out. Finally, the glide is easy to remove for cleaning the inside of the tool out an replacing the glide.
For more information, on the EVOLUTION STAIR WAND, visit
www.hydramaster.com
For more information on HydraMaster, contact your local HydraMaster Distributor, visit our web sites at
www.hydramaster.com
or call us at 1-800-426-1301.
For more information on this press release:
Contact Doyle Bloss, Marketing and Brand Manager for HydraMaster at doyle.bloss@hydramaster.com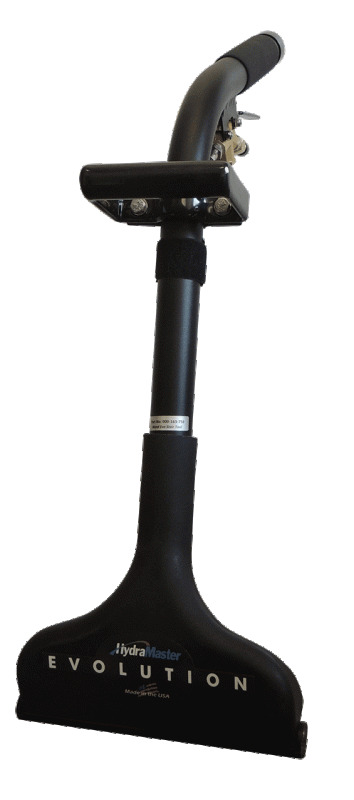 ​
About HydraMaster:
HydraMaster is a leading manufacturer of truckmounted and portable carpet and hard surface cleaning and restoration equipment, chemicals, and accessories. The company has been manufacturing for over 45 years and has led the way in innovation, reliability, and longevity in equipment performance in the cleaning and restoration industry. HydraMaster has distributors located throughout North America, the United Kingdom, Australia, New Zealand, Japan, and China.
​