Joined

Oct 6, 2006
Messages

79,559
Location
Credits
Points

80,269

​

Press Release
May 15, 2018
HydraMaster Introduces the Evolution Multi-Purpose Wand Rack and Holder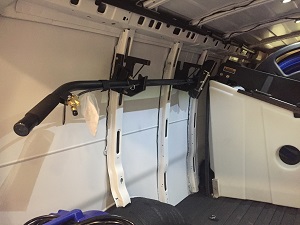 Quit fumbling around in the back of your van or work vehicle trying to find the right place for your Evolution Wands. Those clips don't hold up and often don't fit, but you need to clear floor space and have a place where your technicians know the wand always goes. The Evolution Multi-Purpose Wand Rack/Holder is designed to provide a more professional look to your van, while simultaneously increasing your van organization and efficiency. It protects your wands, and all of the other contents of your van from damage being inflicted by falling wands. The Evolution Multi-Purpose Wand Rack is manufactured with black durable ABS plastic that is corrosion resistant. It is available in a 1.5" version and a 2" version. The 1.5" version is specifically designed to hold the 1.5 Evolution Wand or Evolution Stair Wand. It will also hold most standard stainless steel 1.5" wands and some 1.5" "S" Bend stainless steel wands. The 2" version is designed to hold the 2" Evolution Wand and the 2" Titanium Evolution Wand. It will also hold most standard stainless steel or Titanium 2.0" wands and some 2.0" "S" Bend stainless steel wands. The auto-secure tensioner "locks" the wand in place so it will not fall out, even when making sudden stops or turning sharp corners. The rack can be mounted either to the side of the van or the roof. An added slot will simultaneously store and hold a carpet grooming tool or rake (van side-mount only). Three additional holes on the rack allow you to use bungee cords/wraps to store other hoses and accessories in place. Standard kits come with two brackets and recommended mounting is directly to the rib of the van. Two kits can be mounted on one wall to hold multiple wands
For more information, on the EVOLUTION Multi-Purpose Wand Rack and Holder, visit
www.hydramaster.com
Website listing form product:
https://hydramaster.com/product/evolution-wand-rack-holder/
For more information on HydraMaster, contact your local HydraMaster Distributor, visit our web sites at
www.hydramaster.com
or call us at 1-800-426-1301.
For more information on this press release:
Contact Doyle Bloss, Marketing and Brand Manager for HydraMaster at
doyle.bloss@hydramaster.com
About HydraMaster:
HydraMaster is a leading manufacturer of truckmounted and portable carpet and hard surface cleaning and restoration equipment, chemicals, and accessories. The company has been manufacturing for over 45 years and has led the way in innovation, reliability, and longevity in equipment performance in the cleaning and restoration industry. HydraMaster has distributors located throughout North America, the United Kingdom, Australia, New Zealand, Japan, and China.