​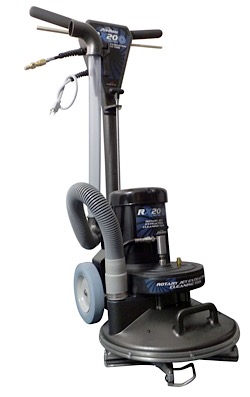 HydraMaster introduced rotary jet extraction® cleaning to the industry 35 years ago with three primary goals: a higher level of cleaning performance in a carpet cleaning wand, faster drying, and reducing fatigue for the cleaning technician. Now HydraMaster is raising the stakes in rotary extractors with the introduction of the RX20 NEXTGEN. Enhancements to the world's best rotary extractor were made by carefully listening to the input of cleaning and restoration contractors worldwide.
The RX20 NEXTGEN is easier to handle and more comfortable to operate. We have extended your deep cleaning reach and optimized productivity with an on-board crevice tool to vacuum to the edges and corners. Your customer can see extracted water and soil through the site tube in the on-board crevice tool. The handle has been ergonomically enhanced and re-designed for operator comfort. On-board detailed operation instructions make it easier to train new technicians. An additional switch sustains head rotation and allows for operation with left hand only. The RX20 NEXTGEN has a new no-slip handle locking mechanism. Finally, we have streamlined manufacturing processes for better affordability without compromising performance, reliability, and durability.
For more information, on the RX20 NEXTGEN, visit
www.hydramaster.com
For more information on HydraMaster, contact your local HydraMaster Distributor, visit our web sites at
www.hydramaster.com
or call us at 1-800-426-1301.
About HydraMaster:
HydraMaster is a leading manufacturer of truckmounted and portable carpet and hard surface cleaning and restoration equipment, chemicals, and accessories. The company has been manufacturing for over 45 years and has led the way in innovation, reliability, and longevity in equipment performance in the cleaning and restoration industry. HydraMaster has distributors located throughout North America, the United Kingdom, Australia, New Zealand, Japan, and China.