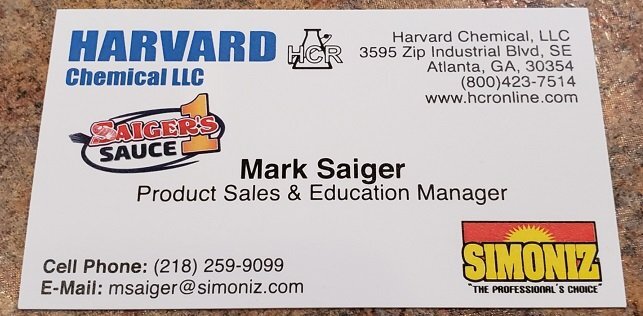 Sept 13, 2019
Mark Saiger with Saiger's Steam Clean, LLC and Saiger's Sauce Products of Grand Rapids, MN has partnered in a new relationship with Harvard Chemical and Simoniz USA. Saiger's Sauce products have been manufactured by Harvard Chemical since inception. Also, our family has been using Harvard products for over 17 years. Simoniz USA acquired Harvard Chemical in 2017.
I have assumed the new position of Product Sales and Education Manager. The partnership will allow us a stronger supportive role with the backing of Harvard Chemical and Simoniz USA.
New Saiger's Sauce products are being developed and tested. I will continue in a development capacity still doing what I love; cleaning and developing products while out in the field. We have always been a family owned business. It is exciting to be working with yet another family owned company who also had their beginnings in a small garage just down the road from their now thriving facilities.
As a third-generation cleaning professional, I am lucky to come from a family with over 53 years of cleaning experience. That tradition continues with 4th and 5th generation family members taking lead roles. As a former music educator and performer, teaching and helping others has always been a strong passion instilled by my family. My father was also a carpet cleaner and music educator. We are here to help others and continue the tradition of giving back.
With our thriving cleaning business in northern Minnesota, more family members continue to join the Saiger's cleaning business. In January, 2019 our daughter Jenalee assumed the overload of phone and office duties. Son in law, Aron Jewett, is the right-hand man that runs most of our day to day operations in the field with our cleaning crew of professionals. You will find myself and Aron cleaning and having fun together on my YouTube channel or other social media sites. My wife Shari is still the main "go to" for all office management, while being incredibly involved in all four Grandbabies lives!
Through Harvard Chemical and Simoniz USA partnership, we will be able to provide more support at JonDon CAD days (Saiger's Sauce exclusive distributor) and any other efforts we can lend a hand with. It will also make us more available to help Harvard Chemical distributors and cleaning companies.
Look for us at the upcoming Experience Convention in Las Vegas, Harvard Chemical – Simoniz USA booth #717, with exciting things to show attendees. I will also be part of a fun presentation at 9:55 am Friday September 20, with Shawn Bisaillon. Our topic: Cleaning – A Day in the Life of Running Diverse Cleaning Businesses in a Busy World, Shawn Bisaillon and Mark Saiger, Saiger's Sauce. "Come join these successful industry leaders in hearing what they do to make their companies successful while being very actively involved in the overall industry. Come get your questions answered and have a great time".
We look forward to seeing and meeting everyone soon!
Mark Saiger
Saiger's Sauce Products & Saiger's Steam Clean, LLC