Joined

Oct 6, 2006
Messages

98,316
Location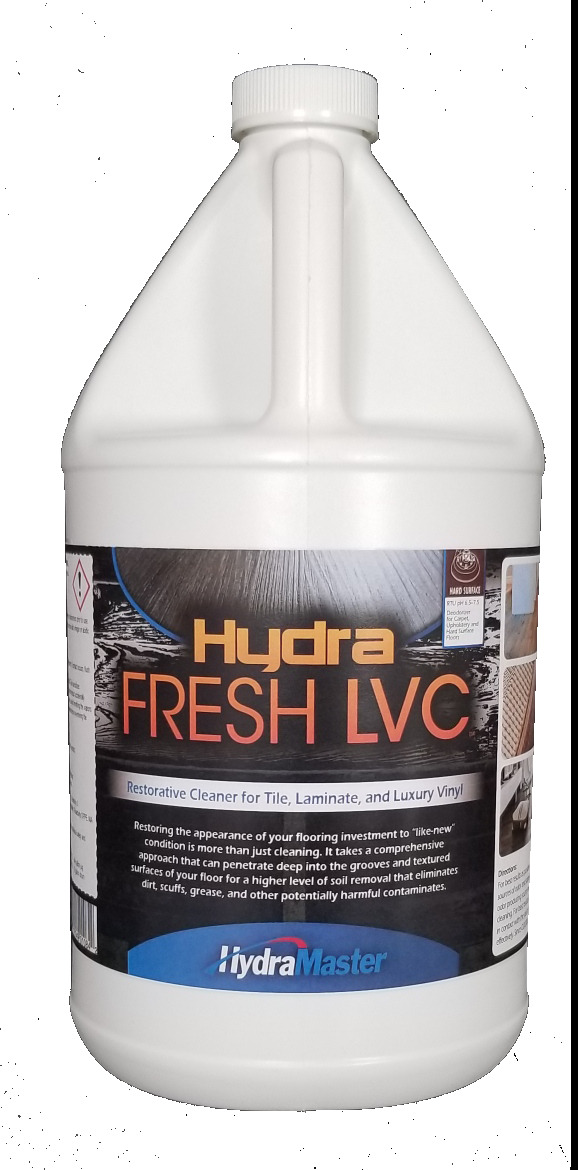 HydraMaster is pleased to introduce
a new cleaning solution called
HydraFresh LVC
. This formulation was specifically developed for the restorative deep cleaning of Luxury Vinyl Plank flooring, although it can work very effectively on laminate and tile too. LVP floors have a special love it seems for drywall dust and other construction debris. It works its way down into the grooves and texture of the flooring. In addition, more and more studies are showing tracked fecal matter (yes, dog poo) is evident throughout the home and that it does not come out of those grooves easily. Then you have all your other normal biological contaminants and soiling they are finding on hard surface floors even after cleaning.
HydraFresh LVC is a lot more than just a neutral floor cleaner that won't hurt the finish of the plank or laminate floor. Restoring the appearance of this flooring investment to "like-new" condition is more than just cleaning. It takes a comprehensive approach that can penetrate deep into the grooves and textured surfaces of the floor for a higher level of soil removal that eliminates dirt, scuffs, grease, and other potentially harmful contaminates. HydraFresh LVC does all of this while it also helps the floor stay cleaner longer because it contains special soil inhibitors and is a low residue formula that does not contain any sticky or tacky cleaning agents. It can be used as part of a prespray and rinse system or as part of a no rinse system. The neutral PH makes it safe for luxury vinyl plank and tile floors, resilient tile floors and wood (polyurethane finish only) and laminate floors. The concentrated formula allows you to adjust the dilution ration to meet the soiling conditions of the floor. For light soiling, you can mix the solution 2 ounces per gallon of water. For heavy, caked on soiling in a restorative cleaning situation, mix 16 ounces of solution per gallon of water. HydraFresh LVC allows you to extend the life of the flooring investment and keep it looking great all the time. Perhaps most importantly, the cleaning product has to work effectively without changing the various looks of the finished product – from matte to glossy to woody to grainy.
HydraFresh LVC can be used with a rinse (or extract) or a no-rinse system. A
CRB
machine works outstanding with it. A electric commercial floor washing machine works well with it. It can also be used with a stationary or rotary hard surface extraction wand on many surfaces. It is available in gallons, four gallon cases, and 55 gallon drums.
HydraFresh LVC will be available soon from your local participating
HydraMaster
Distributor. You can learn more at
www.hydramaster.com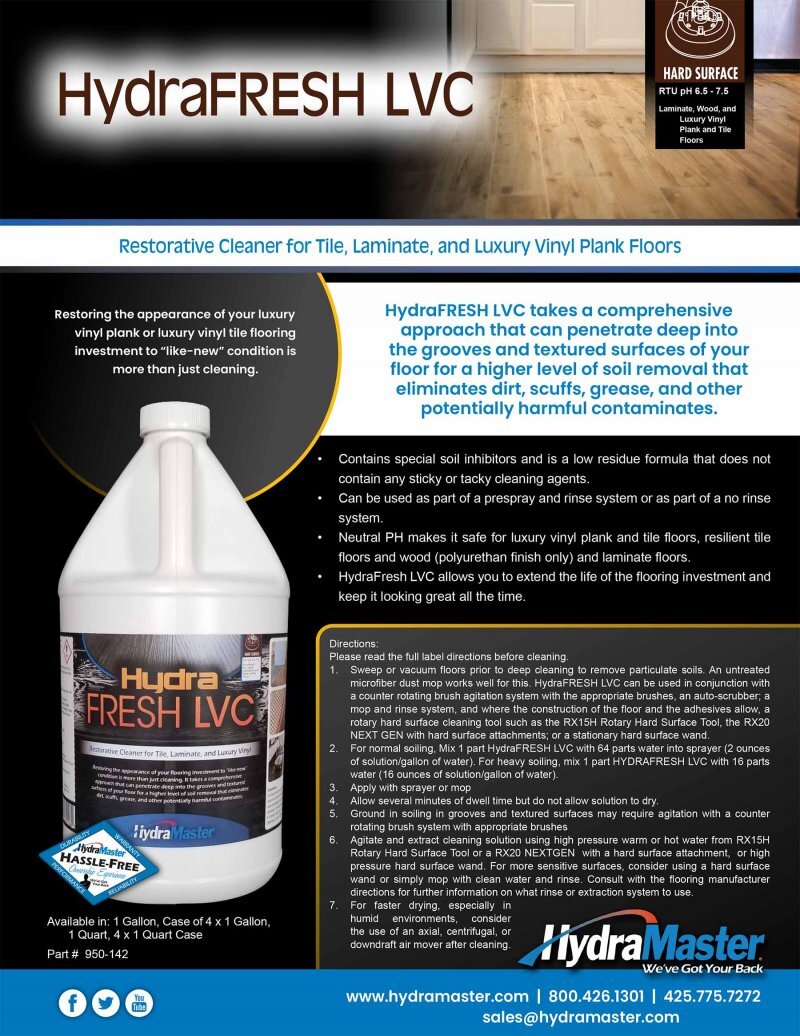 ​