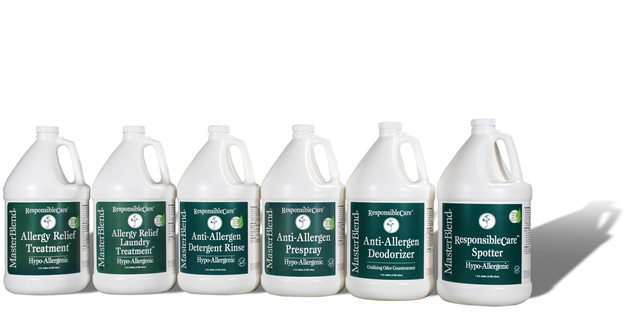 ​
ResponsibleCare™
is MasterBlend's successful line of hypoallergenic, anti-allergen products. The ResponsibleCare family of products creates desirable revenue opportunities professional cleaners through offering valuable services for the allergy sufferer and individuals who are sensitive to harsh chemicals. MasterBlend contends this is an under addressed market and has developed the educational and marketing aids to help the professional market these services. For cleaners, these products are ideal for upselling services by offering a true value to consumers. MasterBlend offers phone support to its distributors for questions, information and education.
ResponsibleCare™ products are tested and proven to be safe for humans, pets, and the environment. The product benefits include:
• Derived from renewable seed and vegetable sources
• Contain no perfumes, hazardous VOCs, solvents or other hazardous products
• Do not contain phosphates
• Biodegradable and Environmentally Safe
PRODUCT LINE
Allergy Relief Treatment
Allergy Relief Laundry Treatment
Anti-Allergen PreSpray
– WoolSafe Approved
Anti-Allergen Detergent Rinse
Anti-Allergen Deodorizer
(non-fragrance oxidizing deodorizer) – WoolSafe Approved
ResponsibleCare™ Spotter.
A hypo-allergenic spot and stain remover. A resale item. – WoolSafe Approved
https://masterblend.net/en/ResponsibleCareSpotter
Sales Aids:
Informative six-page brochures and tri-fold pamphlet available. Download the free Special Report -
https://masterblend.net/en/SpecialReport
Contact
Mark Jennings
303 373.0702 | 800.525.9644
markj@masterblend.net