We typically do regular strip and wax jobs

but a customers asked us about removing glue

from carpet in his home.

How hard of a job is this compared to stripping old finish.?
Much harder. Damn near impossible if you want it completely gone. Easier if they want it off to reinstall new carpet over.
Sentinel makes a product that is suppose to be really good at removing the glue; I haven't tried it myself.
Thread title says off concrete, post suggests from off carpet??
I've used BP's gel break to remove carpet glue off carpet (extended dwell) but I'd be tempted to use a liquid solvent on concrete.

I'm presuming its not decorative concrete with a finish
Lacquer thinner. If you smoke, it will go much faster.
Often, yes. But the lacquer thinner will slice that glue up.
If you use Citra-Zov or
@Larry Cobb
product (he'll chime in in a moment) it will emulsify and you'll be fine.
There are strippers with butoxyl etheline but I hate them because they leave me with a 48-hour headache.
so lay down lacquer thinner and pretty much run it like a strip job with a lot of layers. more scraping with blades I'm sure
Whoa! No! Hit a spark and it is "hello God" time!

If there is a lot, use a citrus solvent and treat it like wax stripper.
Cimex with concrete scarifiers(sp?).....

Number 5
Joined

Oct 7, 2006
Messages

19,471
Location
Credits
the glue is from carpet but is on concrete
pulled up glue down carpet over concrete ...got it .
what's he plan to cover the concrete with?
Tile 'n grout?
Laminate ?
LVT?
sheetgoods?
Painted stained or sealed concrete??
we've done a couple
I'm not into chemical solvent strippers......don't want to wait on time it takes for them to work...and mostly don't want to deal with a gooey mess
I rented these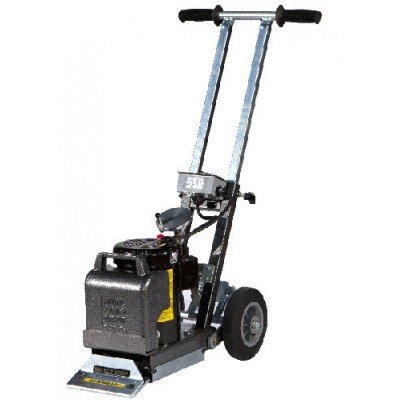 I reckon rotary scarifiers Jeff mentioned would work too.
(never used one to know though)
No clue if any rental places will have correct size for Cimex or not
Some will have rotary carbide scrapers that fit common 15-17" rotaries though
if concrete is relatively flat/finished smooth (like a Home Depot , Sam's, Costco, etc) the flat scraper machine works well
think they rent for like $40 to $60 a day .
If tight areas, get the little one
If wide open, go big/heavier
They'll make you buy a blade ('bout 15 bukz)
(I presume same for rotary scraper) ...no clue what carbide blades for them cost
..L.T.A.

Number 5
Joined

Oct 7, 2006
Messages

19,471
Location
Credits
PEEE-EESSS
if big area and blade gets dull, dress the blade with a file and make it nice 'n charp again

do you know what he wants to do with concrete ?
Is he putting anything over it again?
..L.T.A.
I did a floor like that ONCE. Used Buckeyes Ripsaw stripper no Butyl. It reliqufied the glue. Needs lots of dwell time. Multiple applications. Shopvac to pick up the slurry, you do not want that stuff going into any machine. Used a swing machine with a nylo-grit brush ( a must have for this job) pads will gum up. Refuse to give a price up front that is the only thing that will keep you going, their is no way to estimate how long it will take you.