Supportive Member
Joined

Oct 16, 2006
Messages

2,740
Location
Credits
Talking to many restoration managers, they say getting past the gatekeeper, having a chance to talk with adjusters and book a job is a difficult as processing the restoration.
Peter Crosa, who is an experienced insurance adjuster and Jeff Cross of Cleanfax are teaching a one day class called Restoration Strategies- Turbo charged. What was once a 2 day class has been condensed and packed into one day very full of information.
A class that has never been available west of the Mississippi will be held in Denver.
One chance only to get this class - October 11th.
You can get information and register here - <span>View this event's <a href="
http://www.cvent.com/d/f5q349/6X
">agenda</a>.</span>
You can also call 800 743-2391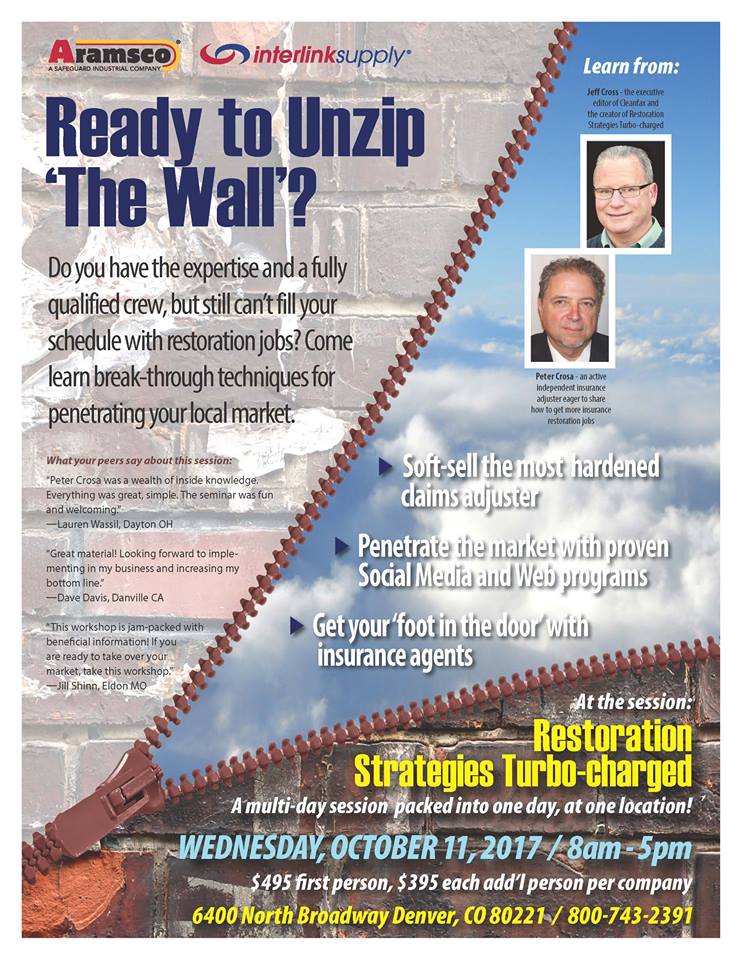 Can't beat the price!
I'm interested has anyone here taken this class?
I'm interested has anyone here taken this class?
It doesn't take place until 10/11/17.
No no Mr Lockhart. It would be very difficult even for a Texan such as yourself, to attend something in the future when we are in the present. Wouldn't you say?

Listen here you!!!

Is this a one off class??
There was testimonials is why I ask.
Just go.
A flight to Denver is cheap, then tell us how good it was.
You make everything so difficult!

Me no like you very much!!!!!!

Why are you making this about you???
Supportive Member
Joined

Oct 16, 2006
Messages

2,740
Location
Credits
I'm interested has anyone here taken this class?
The class is presented by Totally Booked University which is Jeff Cross' training organization. The exact content and format is always being updated. However, what is essentially the same class has been presented before. This will be the first time at an Interlink Supply location. It will be the first time in the western 2/3 of the country.
If it goes well, we hope to host the class at least once each year.