Joined

Dec 29, 2008
Messages

48
Location
Credits
Points

26
Name

Robert Mann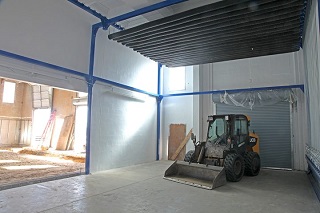 Nearly four years ago the City of Denver said they were buying our neighborhood, that we'd be moving, and to figure it out. I hired a lawyer and started looking for a new place.
I quickly found out the pot guys had bought every warehouse in town and when you saw a place it cost nearly twice as much as it had a few years before. There are web sites like Zillo for industrial properties so I got up every morning to log in and see if anything new had come up. I went on a crash course to learn how seizures and forced moves work.
Condemnation is common. It happens everyday all over the place and I expect it often makes sense. We empower our government to make choices for us, and sometimes you just have to live with the results. If they want your property there is almost no way to stop them, so the only sensible plan is to fight for the best deal you can get. Fighting takes cash and determination. Luck, and other stuff beyond your control, play a role.
In the first meeting with my attorney I asked her how it all worked. She said "you will not be made whole".
For the record. The process is not fair and I'm sure many come away feeling badly about the outcome. For me it has been like having a second job. It's been adversarial at times, but my experience with the city has been they are reasonable people doing a job I suspect they aren't always happy about either. Nothing about this has been simple.
Our old building was a 15,000 square foot wash plant. I had told my wife it was the last plant I'd ever build and that one day we'd put up another building when we needed more space. In the near future the property will become a parking lot.
Early one morning two years ago a new listing popped up on the internet. I called my broker and by 11:00 that morning we were the third showing, with another group walking in the door as we left. By 1:00 we had offered well over asking price and were holding our breaths hoping the deal would work. It did.
The owner of the building had been condemned a few times in the past and was sympathetic. We bought an acre and a half of land, 19,000 square feet of twin tee concrete, circa 1974, and a lot of deferred maintenance. The owner had 5,000,000 comic books to move and needed a few months to do that. We took possession in spring 2016. Now it was time to figure out how to turn a warehouse into a wash plant. And how to pay for it all.
Condemnations are complicated. The City of Denver choose to use the Federal Uniform Relocation Act as a sort of 'rules of engagement' guide. The Act describes the process by which the city buys your building (each side gets an appraisal, the spread between the two identifies the range to be paid) and it goes on to outline how they will help pay for the move and re-establishment of the tenant business.
The City paid a fair price for our building. The inflated Denver real estate market helped, but there was also an unexpected, and very welcome, generosity on the part of someone in the Denver City Government. The next step was to figure out what they would do to help us move.
When Federal guidelines are followed in a forced move the regulations provide that costs of moving and re-establishing a business will be paid. Sounds simple, but what you find out is that each individual request you make for compensation can lead to a drawn out negotiation. We are still working on this project and there are currently over sixty separate line items that we have received compensation for, or are still negotiating. Some items that seemed entirely reasonable were turned down flat. Others required detailed explanations for why they made sense. There were occasions where the City was generous and asked no questions.
Much of the work had to be put out to bid. The rules say the lower of the two bids is what gets paid. We'd get a bid, and the city would share it with a contractor who knew he'd never get the job, but was paid by the hour to provide a second bid. Can you guess who the lower bidder usually is? It's the guy who will never get the job, and who couldn't do it for the price he quoted even if he did get the work. Conflict of interest? Unethical? Probably, but it is exactly how it worked in our case.
What I learned is that nothing is ever as simple as it seems on the surface. The City is paying to move us into a new facility. It is working out. Will we be 'made whole'? I doubt it. How will I feel when it's over? I'll tell you when I find out.
The new wash plant is bigger than our old place. 38 pole dry room, large capacity hot water storage, all new wash equipment, 24,000 square feet of work space. It's a nice quiet location about a mile from the intersection of two major interstate highways. We have extended ourselves financially to achieve this, and somehow it all seems to make sense.
This Fall – October 15-20 – we are hosting a series of events at our new plant. All are welcome to attend. Centrum Force is hosting a two-day Summit event with top industry speakers. ARCS (Association of Rug Care Specialists) is offering a two-day intermediate wash class taught on our brand new wash floor. ARCS is also offering a one-day 'Skills Day' which will provide attendees a full day of hands on skills demonstrations. The last day – Saturday October 20 – we will open our wash floor for a 'BYOB' – Bring your own boots – wash day where we will all wash rugs together and see if we can fill the dry room. Check ARCS and Centrum web sites for all details. rugcarespecialists.org & centrumforce.com
If you'd like to see more photos of the building under construction click the 'Gallery' tab on our web site, mannrugs.com