Joined

Oct 6, 2006
Messages

78,401
Location
Credits
Points

65,333
Saiger Carpet Cleaning Chem Package!
Includes:
CODE RED Pail $209 Retail Value
SaigerSauce 1 Pail $169.20 Retail Value
Saiger's Deep Blue Rinse 4 x 1 Gallon Case $79.99 Retail Value
Total retail value for this package $458.19 Retail Value
+Free Shipping to L48
From 4 generations of Saiger family cleaners, we bring you
"Saiger Sauce 1".
The highest quality, very economical, multi use prespray you can buy.
A unique product created by 50 plus years of cleaning experience and passion, astute observation and testing in real world cleaning situations. A "one product" to help with most of your professional cleaning needs on carpet, tile and grout, synthetic rugs and garage floors, stone patios etc..
Gentle enough to be your everyday pre spray or your
Blue Bullet
on greasy commercial work.
For best, long lasting results, we recommend the use of an extraction agent in your cleaning system such as Harvard Heavy Duty Extraction Rinse (still producing for Neutral 7 Ph range) or other Harvard Chemical Research Rinsing agents.
www.hcronline.com
Slight Fresh Lemon Scent.
No NTA, D-Limonene, Butyl's or other harmful solvents.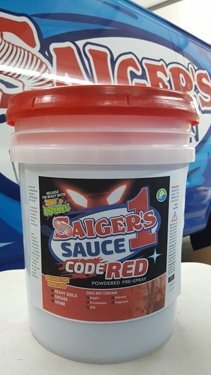 ​
Saiger's Sauce Code Red combines Oxy and Enzyme to the already awesome Saiger's Sauce 1. This unscented formula allows for the addition of deodorizers such as the new Saiger's Cide Lime Citron odor destroyer.
"Take your Cleaning to new Depths"
To complement and enhance our Saiger's Sauce line of products with even more DEEP cleaning results, we worked diligently to create our new Saiger's Sauce Deep Blue All Purpose– All Fiber Rinse!
*Slightly acidic to neutral depending on mixing ratios, we worked to create a rinse that would neutralize and also provide extra cleaning power with no residues!
*The enhanced cleaning power will speed up your cleaning times.
*One Rinse that is safe on all fibers yet will rival also high alkaline rinses and tackle those dirty restaurant and commercial situations.
*So Versatile can be used with Wool, and other fine fabrics, or even to help remove urine salts deposits.
*A great conditioning agent that will help to bring out the colors of the acid dyes in carpets and make them fluffy and soft!
* Stabilizes dyes, inhibits browning and color bleeding.
*SAFE for all Carpet cleaning equipment. Not too acidic that will have a negative effect on the plumbing of your expensive truck mounts and portables!
Starting Bid $350
Minimum bid increments $10
Free Shipping L48
Auction Ends 4/24 at 9PM EST/ 6PM PST