Joined

Jul 13, 2011
Messages

23,344
Action includes:
Two Gallons Saiger's Mango Burst Scentsation Deodorizer, Retail value: $49.12

Free Shipping to the lower 48 States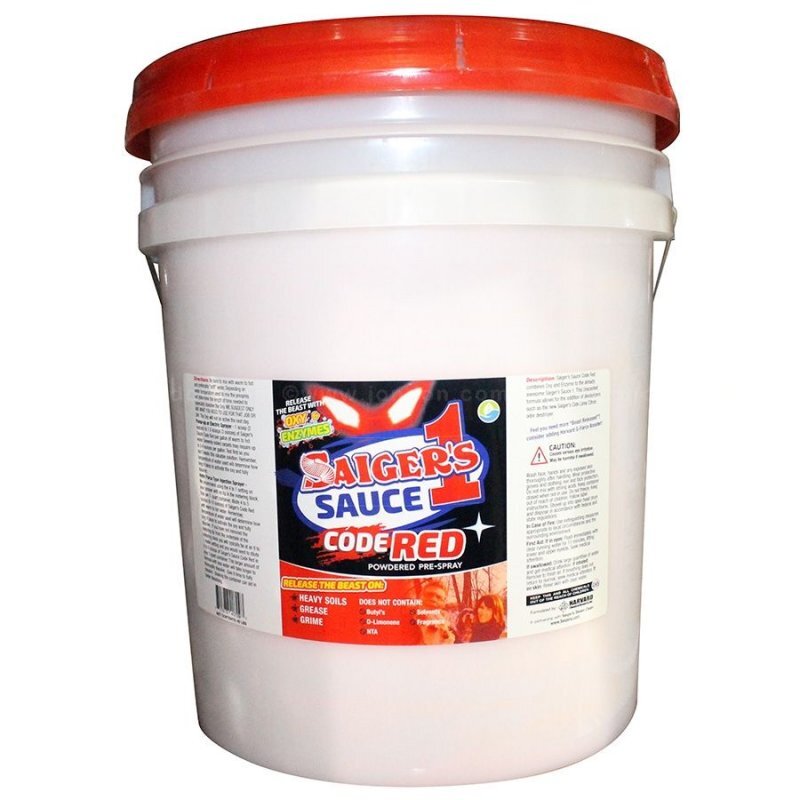 ​
Saiger's Sauce Code Red
combines Oxy and Enzyme to the already awesome
Saiger
's Sauce 1. This unscented formula allows for the addition of deodorizers such as the new
Saiger
's Cide Lime Citron odor destroyer.
Directions and Suggested use​
Be sure to mix with
warm to hot and preferably "soft" water
. Don't store more than you need on
your (hot) truck.
Pump up or Electric Sprayer​
1 scoop (2ounces) to 1.5 scoops (3 ounces) of
Saiger
's Sauce 1 per gallon of warm to hot water. Severely
soiled carpets may require up to 3-4 ounces per gallon. Test first so you don't waste this valuable
solution.
Hydro Force Type Injection Sprayer​
Dilute 8 –9 scoops
Saiger
's Code Red (16-18 ounces) per 5 quart container with warm to hot water, and meter
at 8:1 setting. If not using a metering tip, it is typically at 4:1 setting: THEN dilute only 4-5 scoops which is 8-10 ounces of
Saiger
's Code Red.
​
Saiger's Mango Scentsation Deodorizer​
The Burst of Exotic Mango with a hint of Juicy Orange and fresh Pineapple splash your senses with the new
Saiger
's Sauce "Mango Burst Scentsation" Deodorizer!
This water-soluble deodorizer is a great additive to your cleaning solutions or an after spray for a delightful tropical experience!
Packed full of malodor counteractants, it helps neutralize those nasty odors, or a nice way to complete your clients total cleaning experience.
Directions:
Shake well before using. You can add "Mango Burst Scentsation" to your prespray, rinsing agent, or spray after cleaning.
Mild odors 2-4 ounces per gallon.
Moderate Odors 4-8 ounces per gallon.
Severe Odors 8-10 ounces per gallon.
Product can also be applied with a trigger sprayer, electric atomizer, or pump up type Sprayer
Retail value $303+
Free shipping to lower 48
Starting bid $200
Minimum bid increment $2
Auction ends Thursday January 12th at 9PM EST/ 6PM PST​