Joined

Jul 13, 2011
Messages

24,463
Auction includes:
One 4 x 6.5lb. case

Saiger

's Sauce 10 Below Prespray​

One 4 x 1 Gallon case

Saiger

's OdorOxy​

One Gallon

Saiger

's

Deep Blue

All Purpose -

All Fiber Rinse Saiger's 10 Below Powdered Pre-Spray

"Take your cleaning out of the Ice Ages"

Saiger

's 10 Below was a 3 year project to create the perfect safer cleaning formula that packs a

punch

for cleaning of Carpets, Tile and Grout and Upholstery.

(Not recommended for fine fabric upholstery). With the

Saiger

families relentless field testing, 10 below has emerged from the cold northern climates! Take your cleaning out of the Ice Ages with the new warranty safe and safer cleaning agent!

* 9.5 pH

* Carpet Warranty Safe formula, including Stain Resistant Carpets

* Unscented - No Odor present while in use except pleasing fresh scent

* Odor Eliminating Formula with no Perfumes or scents

* Incredible Cleaning Power giving high pH pre-sprays a run for their money!

* No Butyls, No d-limonene, No Solvents, No NTA's

* Safer Chemistry with true cleaning power!

​
· True odor elimination chemistry
· Can be sprayed and walk away to continue working on stain and odor
· Eliminates stains and odors
· Powerful oxidizers
· pH: 4-5
· For use on carpet, upholstery and other fabrics
· Effective on pet stains, blood, coffee and tannin stains, vomit and other organic stains
· Pleasant fresh scent
Odor Elimination with the Power of Peroxide and a True Odor Destroyer!
ODOR OXY is a unique high powered Peroxide formula with a true Odor Destroyer! Not a masking agent, but a product meant to go after the urine and odor causing organic stains! With the power of Peroxide and our unique Odor Destroyer. Designed for those cleaners who do not have the time for enzyme activation, and need quick fast results!
Odor & Stain elimination oxidizers that will remove organic stains including pet urine, blood, coffee, vomit, and more.
A unique formula to eliminate unpleasant stains and odors in carpet, upholstery and other fabrics.
Avoid using on Wool and Silk materials, and be cautious with natural fibers.
Directions:
Saturate the areas of concern to reach the odor source and the stain(s). Light agitation will help to assist with stain removal. Apply before cleaning and OdorOxy can be applied in more serious areas of concern after cleaning. Let air dry. For light stains and odor, you can dilute 2 parts OdorOxy with 1-part water. Following same application procedures.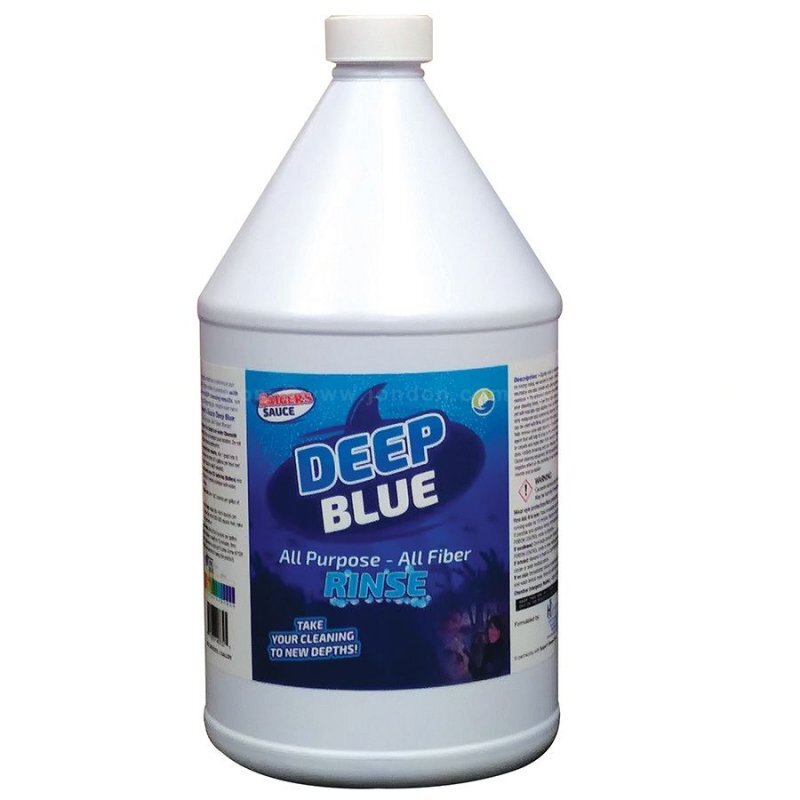 Saiger's Sauce Deep Blue All Purpose – All Fiber Rinse
​
"Take your Cleaning to new Depths"
To complement and enhance our
Saiger
's Sauce line of products with even more DEEP cleaning results, we worked diligently to create our new
Saiger
's Sauce Deep Blue All Purpose– All Fiber Rinse!
*Slightly acidic to neutral depending on mixing ratios, we worked to create a rinse that would neutralize and also provide extra cleaning power with no residues!
*The enhanced cleaning power will speed up your cleaning times.
*One Rinse that is safe on all fibers yet will rival also high alkaline rinses and tackle those dirty restaurant and commercial situations.
*So Versatile can be used with Wool, and other fine fabrics, or even to help remove urine salts deposits.
*A great conditioning agent that will help to bring out the colors of the acid dyes in carpets and make them fluffy and soft!
* Stabilizes dyes, inhibits browning and color bleeding.
*SAFE for all Carpet cleaning equipment. Not too acidic that will have a negative effect on the plumbing of your expensive truck mounts and portables!
Retail value with free shipping to the lower 48 States: $320.98
Starting bid $200
Minimum bid increment $5
Auction ends Monday 4/24/23 at 9PM EST/ 6PM PST


edit: change date
​
Last edited: