Joined

Jul 13, 2011
Messages

23,021
2 Gallons Saiger's 2X Double Strength Oxy Encap (The Code Red of Encaps)
And a little Ocean Breeze with ONE GALLON of Saiger's Mango Burst Scentsation Deodorizer, Retail Value: $24.56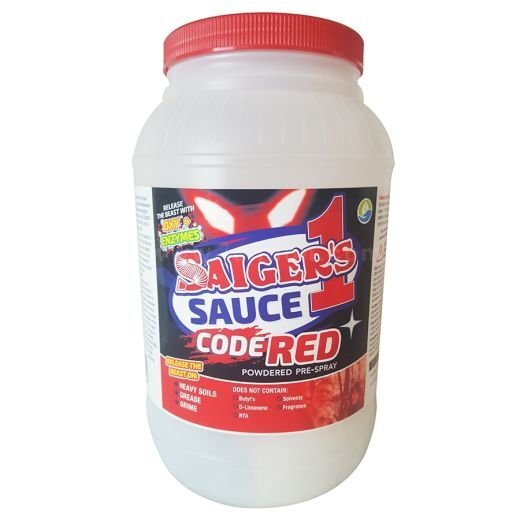 ​
Description​
Saiger
's Sauce Code Red combines Oxy and Enzyme to the already awesome
Saiger
's Sauce 1. This unscented formula allows for the addition of deodorizers such as the new
Saiger
's Cide Lime Citron odor destroyer.
SDS
Directions and Suggested use​
Be sure to mix with
warm to hot and preferably "soft" water
. Don't store more than you need on
your (hot) truck.
Pump up or Electric Sprayer​
1 scoop (2ounces) to 1.5 scoops (3 ounces) of
Saiger
's Sauce 1 per gallon of warm to hot water. Severely
soiled carpets may require up to 3-4 ounces per gallon. Test first so you don't waste this valuable
solution.
Hydro Force Type Injection Sprayer​
Dilute 8 –9 scoops
Saiger
's Code Red (16-18 ounces) per 5 quart container with warm to hot water, and meter
at 8:1 setting. If not using a metering tip, it is typically at 4:1 setting: THEN dilute only 4-5 scoops which is 8-10 ounces of
Saiger
's Code Red.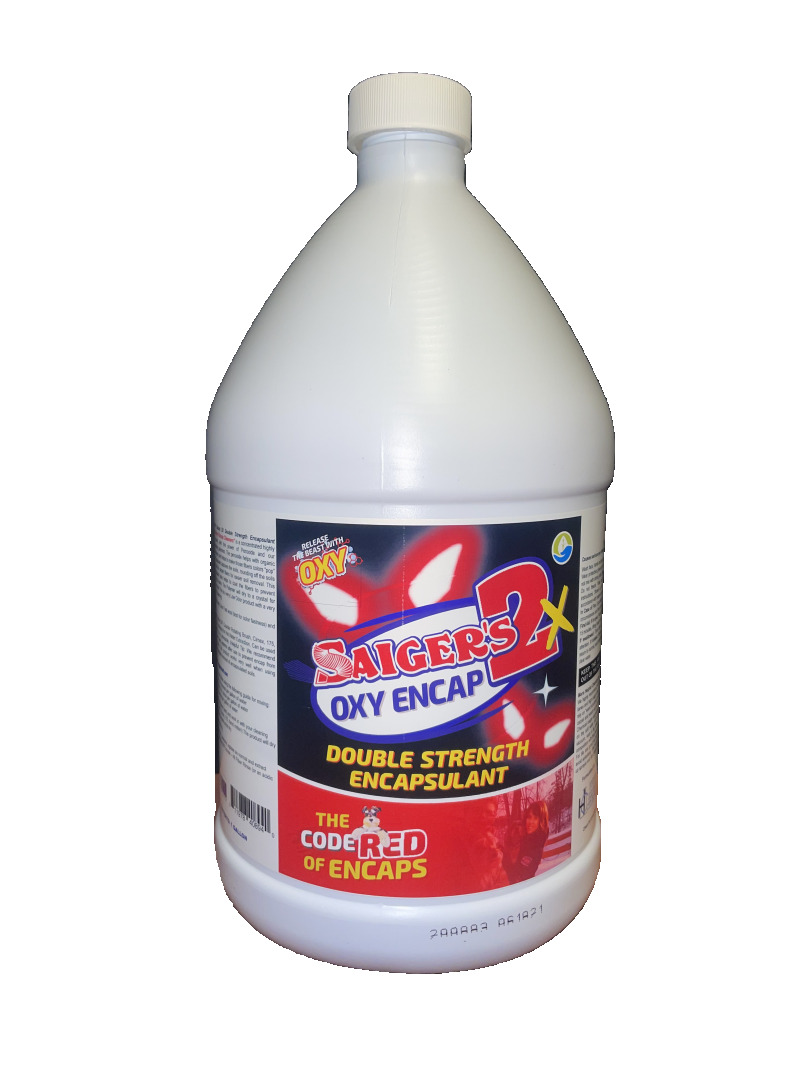 ​
Saiger's Sauce OXY Encap 2X Double Strength Encapsulant Cleaner​
SDS
"The Code Red of Encap Cleaners"
is a concentrated highly effective low pH cleaner, with the power of
Peroxide
and our revolutionary encapsulating polymers. The peroxide helps with organic stain removal, odor removal, and helps to make those fibers colors "pop" with brilliance! The Encapsulant captures the soils, rounding off the soils jagged edges, and coat the carpet fibers for easier soil removal. This highly effective encapsulant also helps to coat the fibers to prevent re-soiling and wicking of stains. The Polymer will dry to a crystal for continued easy soil removal.
This is a very Low Odor product with a very light fresh scent during cleaning.
This product is effective with Color Fast wool (test for color fastness) and synthetic fibers.​
For use with Bonnet, Rotary OP, Counter Rotating Brush, Cimex, 175, hand scrubbing or as a prespray for Hot Water Extraction. Can be used with a shower feed or as a pre-spray. (Helpful Tip: We recommend rinsing out your shower feed systems after use to prevent encap from plugging up the system) This product works very well when using absorbent pads for immediate removal of encapsulated soils.
pH: 4-5 pH

Directions:
Depending on Soil level dilute using the following guide for mixing:
Light – Medium soils: 3-5 ounces per gallon of water
Medium – Heavy soils: 5-6 ounce per gallon of water
Extreme soils: 6-8 ounces per gallon of water
Pre-spray carpet (or Shower feed) and work in with your cleaning unit (Bonnet, OP, CRB, Cimex, 175, hand mitten) The product will dry to a soil encapsulating crystal once dry.
You may vacuum when dry.
For hot water extraction, prespray, agitate as normal and extract using Saiger's Deep Blue All Purpose – All Fiber Rinse (or an acidic rinse agent).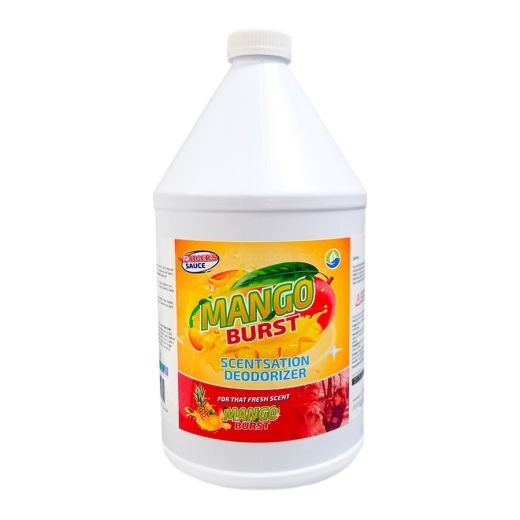 ​
Saiger's Mango Scentsation Deodorizer​
The Burst of Exotic Mango with a hint of Juicy Orange and fresh Pineapple splash your senses with the new
Saiger
's Sauce "Mango Burst Scentsation" Deodorizer!
This water-soluble deodorizer is a great additive to your cleaning solutions or an after spray for a delightful tropical experience!
Packed full of malodor counteractants, it helps neutralize those nasty odors, or a nice way to complete your clients total cleaning experience.
Directions:
Shake well before using. You can add "Mango Burst Scentsation" to your prespray, rinsing agent, or spray after cleaning.
Mild odors 2-4 ounces per gallon.
Moderate Odors 4-8 ounces per gallon.
Severe Odors 8-10 ounces per gallon.
Product can also be applied with a trigger sprayer, electric atomizer, or pump up type Sprayer
SDS
Total Retail Value with Free Shipping to the lower 48 states: $321.92
Starting bid $240
Minimum bid increment $2
Auction ends Thursday October 13th at 9PM EST/6 PM PST
Edit: 13th not 14th
Last edited: