Joined

Jul 13, 2011
Messages

20,855
Auction includes:
One Case of our new Saiger's OdorOxy peroxide based stain and odor eliminator with special Saiger's Cide Mango Burst Scentsation odor eliminator $112.10 retail value
One Case of the original! Our Saiger's Sauce 1 Prespray that started it all $152.58 retail value
2 Gallons Eloquence for Upholstery, Fine Fabrics and Wool prespray cleaner $55.12 retail value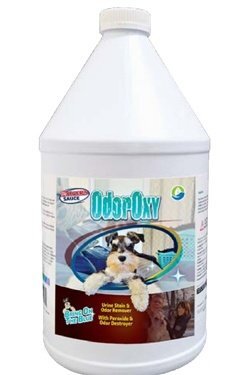 ​
Odor Elimination with the Power of Peroxide and a True Odor Destroyer!​
ODOR OXY
is a unique high powered Peroxide formula with a true Odor Destroyer! Not a masking agent, but a product meant to go after the urine and odor causing organic stains! With the power of Peroxide and our unique Odor Destroyer. Designed for those cleaners who do not have the time for enzyme activation, and need quick fast results! Odor & Stain elimination oxidizers that will remove organic stains including pet urine, blood, coffee, vomit, and more. A unique formula to eliminate unpleasant stains and odors in carpet, upholstery and other fabrics.
Avoid using on Wool and Silk materials, and be cautious with natural fibers.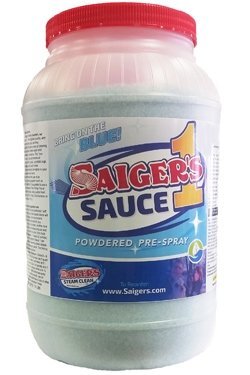 Saiger's Sauce 1
The Power of the Blue!
"Bring on the Blue Bullet!"
Enviro Safe – Non Toxic
​
From 4 generations of
Saiger
family cleaners, we bring you
"Saiger Sauce 1".
The highest quality, very economical, multi use prespray you can buy. A unique product created by 50 plus years of cleaning experience and passion, astute observation and testing in real world cleaning situations. A "one product" to help with most of your professional cleaning needs on carpet, tile and grout, synthetic rugs and garage floors, stone patios etc..
Gentle enough to be your everyday pre spray or your
Blue Bullet
on greasy commercial work.
Saiger
Family for quality assured performance. Eloquence field testing was performed in many areas of the U.S. as to ensure maximum safe cleaning performance regardless of conditions.
UN-EQUALED COMBINATION OF PROPRIETARY SURFACTANTS Our specific blend of wetting agents and emulsifiers are designed to remove tough oils and soils commonly found in upholstery fibers. Eloquence was designed for improved cleaning performance specifically for those difficult fine fabric/wool cleaning challenges. Eloquence has an un-equaled ability to cut through body oils, odors and every day household wear and tear of your fine fabrics and wool carpets/rugs. POWERFUL CLEANING ABILITY FOR THE MOST DELICATE FIBERS
Saiger
's
"Eloquence"
can also be used on carpets and rugs where a lower pH is needed. You will see incredible cleaning & brightening properties not typical of products in this pH range. Our proprietary blend is a non-foaming formulation, making it easier to use.
$319.80 retail value with Free shipping to the lower 48
Starting bid $140
Minimum bid increment $2
Auction ends Wednesday 11/10/21 at 9PM EST/ 6PM PST