Joined

Oct 7, 2006
Messages

10,967
Name

Jim Pemberton
When Is Hot 'Not So Hot'?
Jim Pemberton - Fabric Pro Upholstery Specialist
The use of a hot cleaning solution is not without risk in upholstery care!
Cleaning professionals have long been taught that using hot (over 110 degrees) water can be one of the most important "ingredients" for producing outstanding results in upholstery cleaning.
CAUTION!
There are several areas of concern when using a heated solution that a cleaning professional must be aware of:
Concern #1
-
Prespray Compounds With Aggressive Solvents:
When fabrics are preconditioned with prespray products that contain aggressive solvents, color bleeding may result when the fabric is cleaned with hot water. The reaction of the solvents and detergents with the heat may cause bleeding that will not be evident when pre-testing.
Note:
The use of a cool cleaning solution is not necessarily the best answer, since delayed color bleeding can still occur.
Solution:
Precondition with a neutral upholstery shampoo, and then extract with a heated acid based rinse agent. With this method you will often be able to clean sensitive, multi-colored fabrics using warm, but never hot water ..... always pretesting your products and methods thoroughly before use.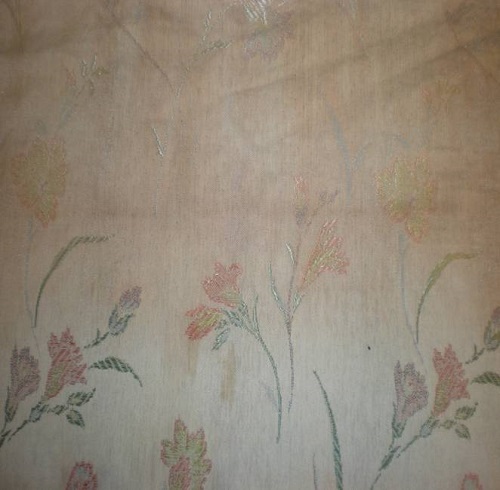 "This fabric bled due to a combination of excessive heat and aggressive solvent additives"
Concern #2 - Cleaning Velvets Made From Synthetic Fibers:
While heat has long been used to assist in cleaning synthetic upholstery fabrics, be cautious with synthetic fiber velvets. Extremely hot cleaning solutions could cause nap distortion that can be impossible to correct.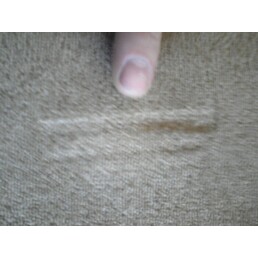 "This fabric damage occurred from using extremely hot solutions and a metal cleaning tool on synthetic velvet"
Concern #3 - Spotting:
When attempting to remove blood, urine, and some tannin stains, heat may "set" the stain and can make removal more difficult. Always use moderate temperatures when attempting to remove these substances.
While it might seem to be easier to approach every cleaning task with the same method, this can result in damage claims, or at the best, unsatisfactory work. With training and practice, a cleaning professional will learn to find a variety of ways to clean and restore fabrics to their customers' satisfaction.
The difference between a skilled craftsman and a "technician" in any field is that a true craftsman has the knowledge as well as the know-how to use a variety of specialty tools and procedures to produce a fine, finished product.
A trained "technician" on the other hand, will use a 'reliable' system for all items and stay away from fine fabrics and specialized spotting problems beyond his skill level.
******************************************
Find more useful product information at
PEMBERTONS On-Line Store
.
Jim Pemberton also presents . . .
"21st Century"
'
Fabric Pro Upholstery Specialist' workshops!
Next Available Date?
Click Here For Pembertons Learning Center Calendar:
This unique two day course is absolutely not a "Prep" course to prepare you for another longer certification course.
In this two day course you'll receive all the essential information not contained in other courses, without the mind numbing additional information on
fabric names, dyeing processes, and chemistry that is "nice to know", but rarely "need to know" information for the
......
Fabric Pro Upholstery Specialist
Jim Pemberton explains why you need to attend . . . (click here)
www.ecleanadvisor.com/public/1074.cfm
Course contents and registration (click here)