Joined

Oct 6, 2006
Messages

111,205
Location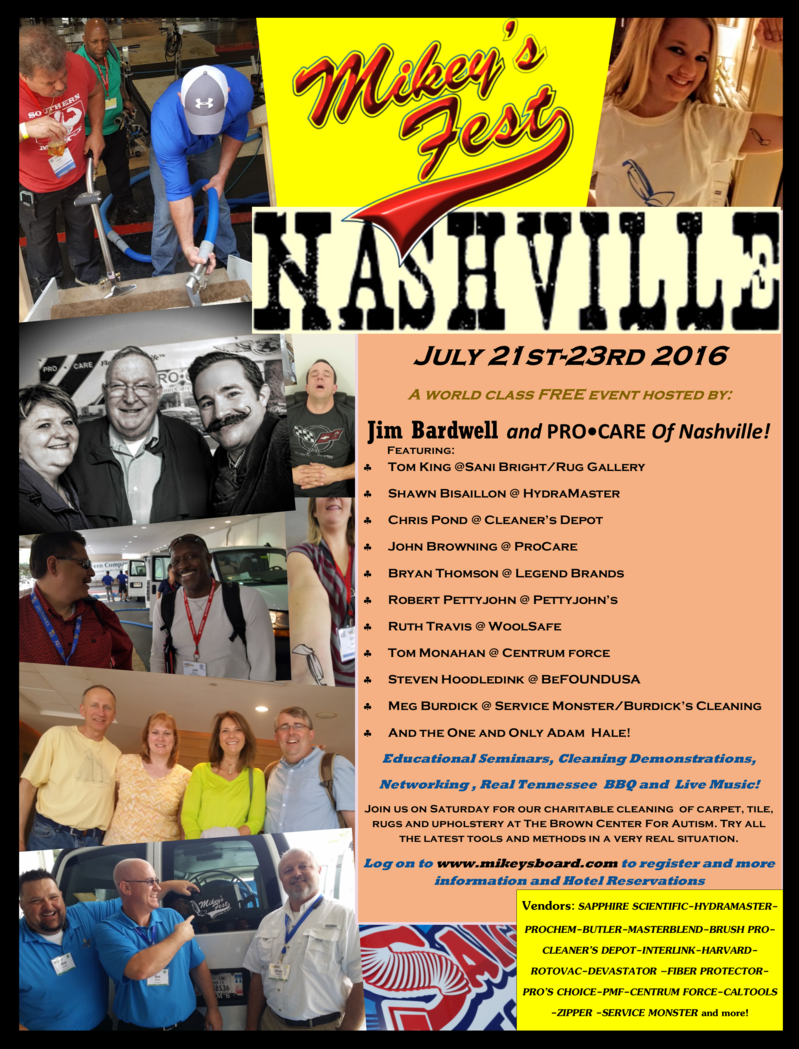 We're headed back to Nashville for 2016!
July 21-23-2016
Class location for Thursday and Friday :
720 Fesslers Ln, Nashville, TN 37210
Saturday's Charity Cleaning Event to be held at:
2702 Greystone Rd, Nashville, TN 37204
BOOK YOUR ROOMS HERE
Sign up here
Jim Bardwell and John Browning of Pro Care of Nashville along with Chris Pond at the Cleaner's Depot are going to co-host the event. Jim and John are marketing geniuses and have loads to share. Tour their operations and pick their brains all for free!
The
Pro Care
facility is a top notch facility with plenty of space for demos and classes. We'll have a strong rug cleaning emphasis as they have a nice set up and with
Centrum Force
, Ruth Travis and Robert Pettyjohn, we'll be sharing a tremendous amount of rug knowledge over the three days
Vendors committed with plenty more to come..
Cleaners Depot*
Brush Pro*
Fiber ProTector*
Zipper*
Rotovac*
Devastator
Masterblend*
Pro's Choice*
Procyon
DSC
Industry Super Star Presenters!
Jim Bardwell
John Browning
Tom King
Adam Hale
Shawn Bisaillon
Chris Pond
Tom Monahan
Bryan Tompson
Robert Pettyjohn
Ruth Travis
Steven Hoodledink
Meg Burdick
Nashville Schedule
Private breakout sessions available on Thursday and Friday, no need to spill your guts in front of an entire classroom, with:
Shawn Bisallion
- Upholstery cleaning techniques, speed cleaning, fine fabrics, fiber protection, tool selection, work station set ups etc
Jim Bardwell
- Fine tuning your company image. GO from Slob to Suave in about 10 minutes with the world's most dapper man.
John Browning
- Fine tune your existing systems to to increase your companies net worth and your piece of mind
Tom King-
Expanding your offerings, how best to figure out the best fit for your personality and business location
Thursday's Main Program

8:30AM – 9:30 -
Jim Bardwell
Servicing the filthy rich. Who is going to let you in the front door?
9:45 to 10:45-
Meg Burdick
Using
Service Monster
to get the phone to ring. Meg will share many of her strategies behind running PA's premium Burdick's Cleaning
11:00 to 12:00-
John Browning
Systematizing your business so you never lose a spray bottle, a foam block or a customer. John's business will be on full display to the mechanisms behind his clockwork.
12:00 to 1PM- Catered Lunch
1:15 – 2:15-
Steven Hoodlebrink
What is the Googleman up to THIS week? Website design fundamentals and where and when to wear your black hat.
2:30- 3:30-
Tom King
Diversification, what upsells and add ons are right for you and your company?
3:45- 5:00
ADAM HALE! End the day with a smile and a buzz with an award winning cleaning superstar speaker. (do NOT miss!)
Friday's Main Program

9:00AM to 10:00-
Chris Pond
- Designing the perfect truckmount and layout configuration. Learn Chris's thoughts on how to choose the best unit for your business and see his new innovative shelf and rack system in action
10:15-11:00
Bryan Thomson
- Training your techs or yourself to be a Tile and Stone God. Problem solving, advance techniques and preparation for Saturday's hands on cleaning.
11:15-12:30-
Tom King
- Hiring strategies to save you time, money and grey hairs. Learn from the best on how to weed out the dregs..
12:30 – 6:00
BBQ lunch, live music and Vendor's trade show
1:30- 5:00
Tom Monahan, Ruth Travis and Robert Pettyjohn
- Rug Workshop-Class time and Hands and feet on in the ProCare facility and Tom's Mobile Rug Cleaning Plant

Jordan King-
Tufted Rug cleaning techniques
DSC-
Basketball hoops competition


Saturday
9AM until we're finished
All Hands On Deck @ the Brown's Center for Autism as we clean tile carpet, upholstery and area rugs for charity.
We'll be using all the truckmounts, low moisture equipment and and every other gadget to complete the job in a very professional manner.
A very unique opportunity to try out the very latest equipment and methods in a real setting with the guidance of the very best cleaners in the country


Last edited: