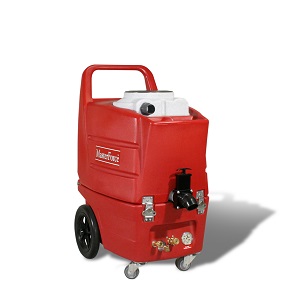 From the makers for the very successful, award winning El Diablo Truckmount comes a mighty
and portable alternative, The MasterForce.
As you know, there are times a truckmount is just not going to work. Consider high-rise offices or places where long vac and solution hoses just are not a good option, what you need is a small compact unit that packs a lot of power.
This is it, the lightweight, easy to maneuver powerhouse we call the MasterForce portable. Upstairs, down elevators, narrow passages, and easy to load, the MasterForce comes equipped with a great deal of power and big solution and waste tanks. Great for flood cleanups with 20 gallons/minute pump out.
Comes with the options you need. Adjustable 0 to 1200 PSI pump for effective cleaning on
upholstery, carpeting, or tile and grout work Automatic water fill and chemical feed systems options as well as a heated option.
Learn more about the MasterForce and how it can help your business at:
www.masterblend.net/en/equipment/truckmounts/masterforce
VIDEO:
Mark Jennings
National Sales Director
MasterBlend Inc.
markj@masterblend.net