Ok guys. Here's a new one for me. Have any of you heard or had experience with Industrial Chem Labs and Services?
A couple of weeks ago, while sitting in the Wendy's drive thru, I got a call from a guy in New York. He said he worked for Industrial Chem Labs. He said his company makes chems for all the big names like CTI, Legend Brands, Chemspec, and so on. He said he is the supplier of the chems in the raw crystal form and they dilute it down and make it to the specs of their customers. He claimed his company has a catalog with over 500 chems. He claimed if I wanted to open my own product line, just call him and they can send me the raw chems to make my own deodorizers
The salesman then goes on to tell me about this new spotter They have that is a synthetic enzyme that was designed specially to eat red, yellow, anything vomit, blood, urine, fecal, biological, and filtration lines. It mixes at 128:1. It all sounded too good to be true.
After hearing about this wonder cure-all, He offered to send me a case for free to test out. He said if I like it, it's $29 per gallon.
Last night the case arrived, and to my surprise what was in the box was something completely different than discussed. It was a case of "Carpet Cleaner" 10:1 carpet prespray. From reading the label it looks like its an encap. Its says to "wipe off after 5 minutes".There is no mention of using it as a Filtration line, red dye, blood, urine spotter or the dilution rate of 128:1.
This morning I looked up the company on google. They have horrible reviews. 60 1 star reviews and not 1 good review. I don't know how this company stays in business.
Maybe it was just a mistake. I'll call them later and sort it out, but from reading the reviews, I think I'm wasting my time.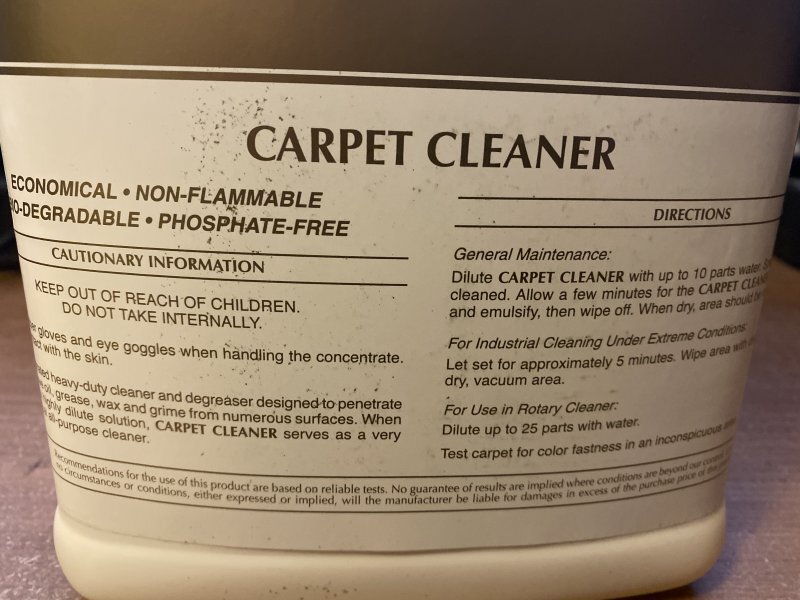 Last edited: